You are at >> Home >> Products >> EcoPower® Hybrid Ventilators
The world's first, true hybrid ventilator, Combining reliability and performance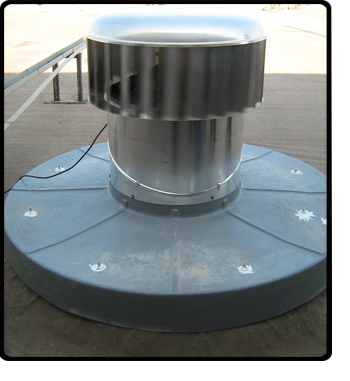 CSR Edmonds manufacturer of the Hurricane® industrial ventilator, have developed a patented hybrid vent design that uses electronic commutating motor technology located in the top of the Hurricane® Ventilator.
 
The design allows the vent to spin freely under wind load and provide the same exhaust rate as the traditional Hurricane vent. The free area of the throat is NOT impeded, unlike current vent / fan combinations. When required the vent can be powered which provides a huge boost to the flow rate, at an extraordinarily high efficiency; 110 m3/hr/watt of energy - far more energy efficient than any conventional powered fan.
 
The guaranteed exhaust rate regardless of wind speed or 'stack effect' can be controlled by digital measurement of a range of physical properties or chemical entities including temperature, humidity, carbon dioxide, etc.
 
With a very low operational noise, the ecoPower is ideal for use in homes, offices or factories.
THE IMPORTANCE OF DEPENDABLE VENTILATION
Ample research is available to show that adequate fresh air exchange is crucial for workers, students and home occupants to perform at their best. A well designed ventilation scheme can:
Lower temperatures in homes and buildings during summer by cooling roof spaces and even removing trapped ceiling heat through ceiling grilles

Improve air quality by lowering impurity levels caused by human respiration and chemical emissions - mainly volatile organic compounds (VOCs) - from carpets, furniture, paints, cleaning products and the like. Long-term exposure to VOCs causes sick building syndrome, in which building occupants experience rising levels of eye, nose and throat irritation, headache and allergic reactions. Under requirements to maintain a safe working environment, many factories now need adequate fresh air exchange to remove gaseous, process emissions and/or heat build up.
IMPORTANCE OF ENERGY EFFICIENT SOLUTIONS
Growing environmental concerns demand that ventilation requirements be met by the most energy efficient means available.
Wind turbine ventilators can perform this function well, however for reliability they depend on favourable wind conditions, which are not always present when temperatures are extreme. They are, in effect, 'slaves to the vagaries of wind'. CSR Edmonds has developed and secured intellectual properly rights for the wald's first true hybrid ventilator. The ecoPOWER® is both a wind driven and mototised ventilator with the capacity to operate by wind alone or by both wind and electrical power simultaneously.
eco

POWER® - TRUE HYBRID VENTILATION

ecoPOWER® utilizes an electronic commutating (EC) motor installed in the head of the ventilator to enable motorised boost during periods of low wind speed or special ventilation needs. The motor can be activated by any digital measure, such as temperature, humidity gas concentration level et::. The standard product is controlled manually by a switch (not included).

Unlike previous attempts to produce Ct hybrid mechanical/wind vent, ecoPOWER® has no motor and fan blade in the throat of the vent. This is extremely important. Research using AS4740:2000 (Performance of Natural Ventilators) has shown clearly that any obstruction in the throat of a wind ventilator will greatly decrease vent performance under wind load. The level of flow reduction can be 40% or greater. Also, axial fans located in the throat of wind vents can produce significant noise levels. ecoPOWER® is a large direct drive centrifugal fan. The bearing system of the motor becomes the bearing system of the ventilator. This means that the vent can be free spinning under wind load or power activated as conditions require. The use of an EC motor ensures that the best energy efficiency features available are factored into the product design.  
| | | | |
| --- | --- | --- | --- |
| Model | Supply Voltage | Exhaust Rate [m3/hr] | Power (W) |
| | | | |
| | | | |
| | | | |
| | | | |
| | | | |
PERFORMANCE UNDER WIND POWER ALONE
How does
eco

POWER® perform under wind power alone compared with the standard Hurricane wind turbine?

The results show that ecoPOWER® provides exhaust rates about 10% greater than standard Hurricane due to less throat blockage.
BENEFITS OF 
eco

POWER®
eco

POWER® offers customers the following unique benefits:
Optional powered ventilation without reducing the performance of wind exhaust levels (which occurs when motor and. fan blades are installed in the throat).

High levels of energy efficiency.

Much lower operational noise levels compared with similar capacity axial fan products.

Dependable ventilation that performs when required.

Advanced German motor technology.

CSR Edmonds' vertical vane vent technology, which outperforms traditional spherical shape metal vents of the same throat diameter*.

Lighter weight than comparable axial fans.
APPLICATIONS OF 
eco

POWER®
Applications that require faster removal of heat / humidity / fumes / any particular gas if its concentration increases beyond a certain level require the ecoPOWER® to run on power mode where as under normal conditions, it is required to run  without power.

Sensor / Timer based Switch On / Switch Off.

Applications in combination with solar power due to high energy efficient motor.

Applications that require a very low noise level.